VSP Leads Ride Along the River Roads
It was a bright and sunny day. It was a terrific day for a ride. Thirteen of us on ten bikes arrived at Ernie's Saloon in Isleton from 10:30 AM to 11:00 AM. TC on his Classic, Tiny on his 1600, NiteLite and Homeless on his Nomad, Darcy on his 1500 Classic, Dan Ritter and Ada on his Nomad, Paula on her 500, Paula's hubby and their two friends riding two up on their GS500's, Rick M on a Bonneville and me - VSP on my 750.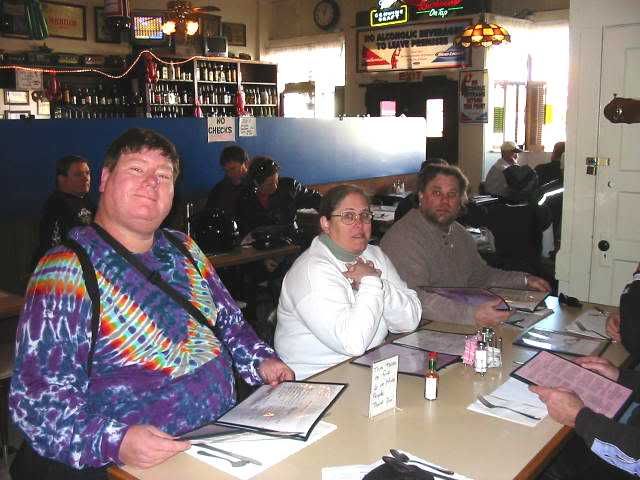 Tiny and the Sublows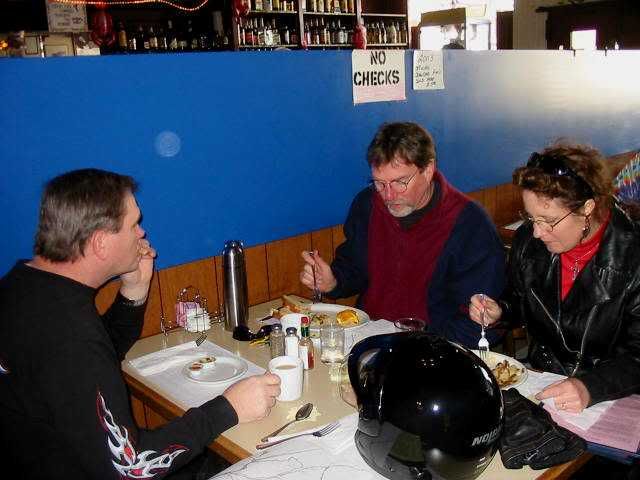 Darcy and the Ritters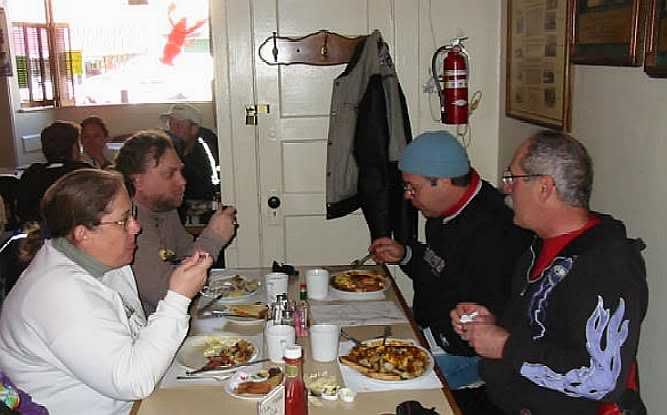 Sublows, TC and Rick M.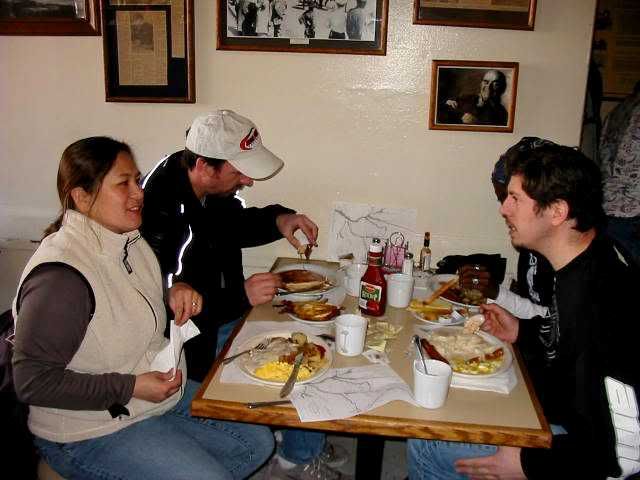 Paula, hubby and friends
A few had to top off their gas tanks before the Ride. There is one gas station in Isleton and none along the Ride Route.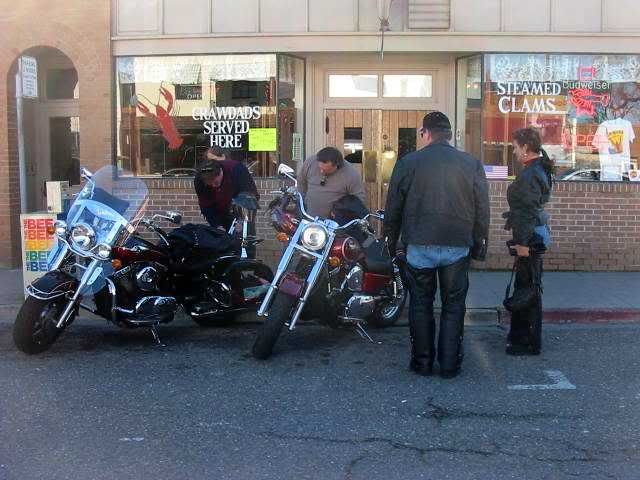 Checking Dan's Nomad in front of Ernie's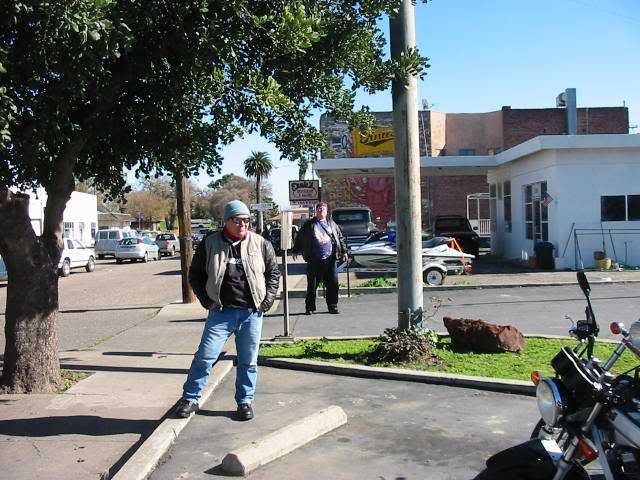 TC and Tiny. Ernies in background
Off we head over to Grand Island. Riding along the bumpy road taken only by locals and fisherman. Then we cut through the middle of Grand Island on SR 220. We reconnect with Hwy 160 at Ryde (see link below). Paula decides at the left turn that her bike needs a rest so lays it down. No injury. We manage to regroup at Walnut Grove our first of two rest stops.
We ride past Locke the Chinese settlement that is the home of "Al the Wops" (see link below). We then barrel along at 50 mph along the river to Freeport then to the McDonalds at Pocket Road in south Sacramento. After unloading some breakfast coffee, we head back to the river roads to Clarksburg. I almost miss the unmarked turn off to Clarksburg Road to ride the farm roads as a change of pace. Then back to Hwy 160 to turn off on the road to the Grand Island Mansion. After a quick look at the Mansion (see link below) we head toward ferry number one. SR 220 has a cable ferry to get across the river.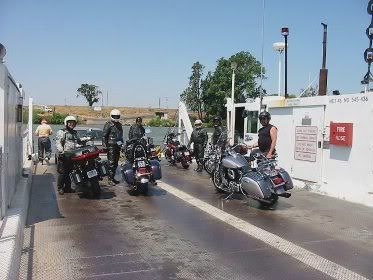 The ferries are manned by CalTrans employees. On the other side of the river is Ryer Island. The roads there are seldomed travelled. No traffic and a few twisties along the levees of Ryer Island. A boat ferry takes us over the Sacramento River about three miles north of Rio Vista. End of Ride (three hours and 90 miles from Ernie's) at the Chevron/McDonalds in Rio Vista.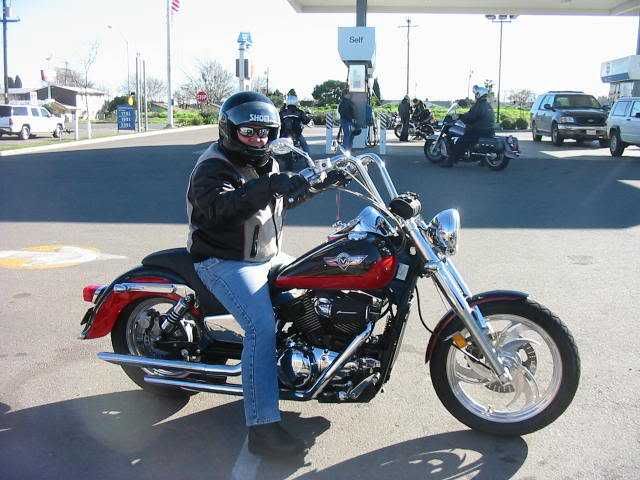 TC heading back to San Jose from Rio Vista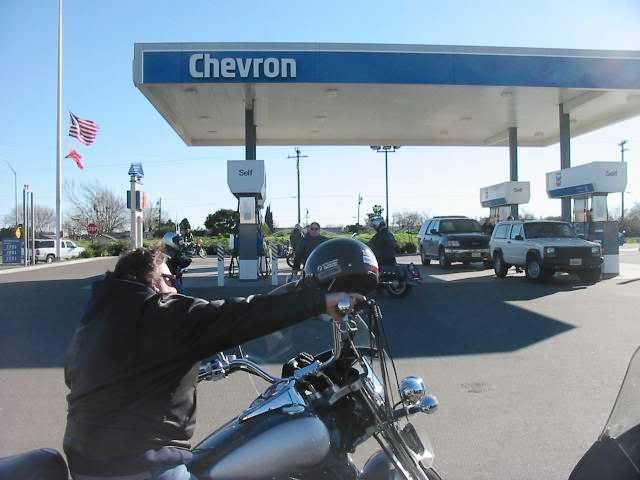 Nite Lite did not bring his skunk helmet
Click For Information on the Grand Island Mansion and Spa
Click For Information on the Ryde Hotel
Click For Information on Locke
--
Feb 8, 2004
Don "Very Short Person" Inamasu