Fogrider Leads Ride
Fogrider Leads SFBA VROC Ride Along Left Coast Oct 12, 2003
It was a dark and stormy night...... No actually it was a terrific day for a ride. Five of us eventually arrived at the Starbucks in Pinole, Tiny on his new 1600, Fogrider on his Nomad, Paula on her 500, Darcy on his 1500 Classic and me - VSP on my 750.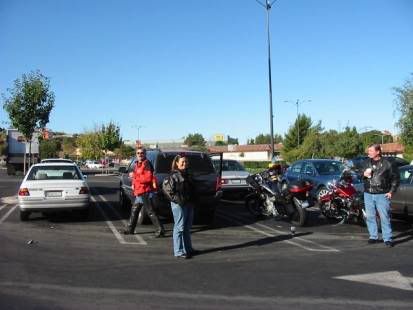 We had a bit of a problem getting to the same gas station to top off the tanks before we took off. But a cell phone call got us all to the same place. Then we took off to the Richmond - San Rafael Bridge. A short freeway ride up Hwy 101 and we are off toward the Coast on Lucas Valley Road. We pass more bicyclists than autos along the way, but then again this is Marin County where the bicyclists have chauffeurs to drive their cars. We wind our way to Point Reyes where the restaurant is too crowded with a too long hour wait for lunch.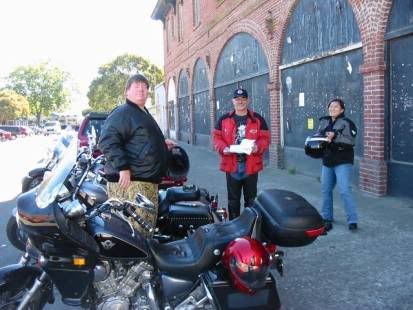 So we head north on Hwy 1 to eat at Howard's Station in Occidental. Although there are a lot of people at all of the places we stop at and pass along the ride, the traffic is really light. In fact, the only thing that slowed us up was our desire to take in the scenery along the ride.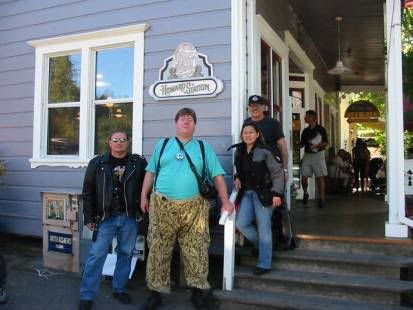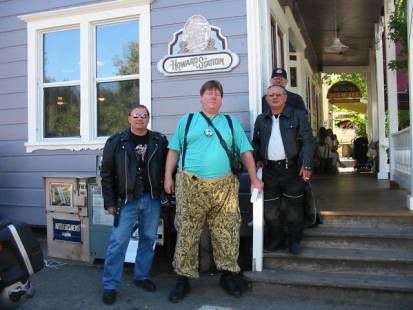 Lunch takes awhile to order. Howard's Station is a popular breakfast place serving that meal until 12:30 PM. But we arrive at 1:00 PM just as the last of the breakfast patrons are finishing up. The place is crowded.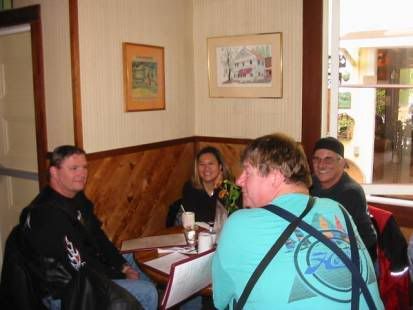 After lunch we were suppose to head along Coleman Valley Road over to Bodega Bay. But we take a left fork along Joy Road instead of the right fork that keeps us on Coleman Valley Road. But what the heck no one has ever ridden over Joy Road, no wonder since a lot of it is a one-lane road through the old Redwood Forest. From there we head over to Valley Ford Road to take us to Petaluma and home. Now Nite Lite rides that road at about 80 mph, but he rides with all the cops that patrol that road. So we take it at a leisurely speed limit. At the gas station in Petaluma we split up to head home. Darcy and I head over to Hwy 116 as the rest head down Hwy 101. Fogrider will continue over the Golden Gate Bridge to the City. Tiny and Paula to head back over the Richmond Bridge to Oakland. The only traffic that Darcy and I find all day is after Hwy 12 leaves Napa County and merges onto I-80 for about two miles. The 8 to 10 lane super slab is at a stop and go pace. It turns out that there was an accident that shut down two of the five lanes. A Senior soda (27 cents)for me as Darcy has to pay full price for his drink at the Fairfield McDonalds then back onto Hwy 12. Darcy heads off on Hwy 160 as I continue toward home on Hwy 12. A nice 10 hour day on the bike. All in all a great day.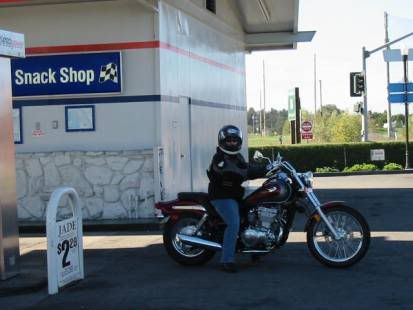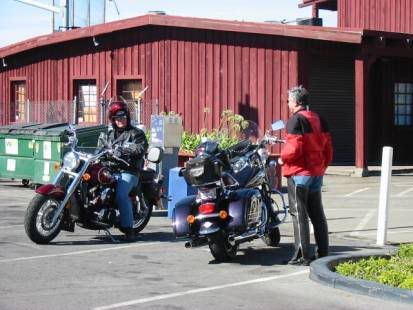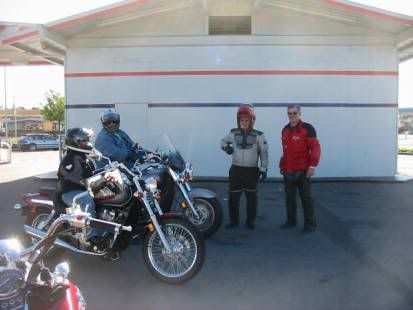 10/12/03

PS:
Hee hee, Don, If you got home before 5:30 you beat me. (I got home at 5:45 PM - VSP) We had total stop and go on 101 from Lucas Valley Rd to the 580 turnoff. Seems there was a car on fire or something on the Golden Gate bridge, I guess a bunch of people were trying to head over the Richmond Bridge instead. Tiny and Paula took 580. Traffic cleared a bit on 101 but stopped dead at Marin City. I got off and poked around Best Buy for 30 minutes, hoping it would clear. Nope. Lane split where I could, even Park Presidio on the other side of the bridge a mess, took local roads and it still took me an hour, should have been about 20 minutes. -

Fogrider Ken

--
Don "Very Short Person" Inamasu